Search Item
How to watch OnDemand Movie.
In order to play AV OnDemand, Windows XP or later. Windows Media Player is required. XCITY membership is required to play AV OnDemand. Simply, you can register your membership, and you can access all contents. Questions or problems, please visit the technical support page.
BERAVO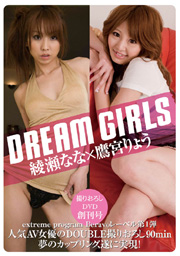 A new series named DREAM GIRLS that two popular porn stars play hotter is released. On the very first episode, Ryo Takamiya, a fascinating star and Nana Ayase, an ex-model of bathing suits appear and show you lusty fuck. Enjoy lusty performance of Ryo, a slender and pretty lady, and passionate sex of Nana, having fair skin and lovely butt.